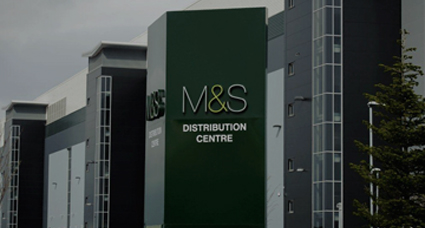 Borri and Power Control, official partner in the UK for  3-phase UPSs, help a multinational retailer renew its backup infrastructure in just four weeks.
Ingenio Plus UPS to support key elements of the site's electrical infrastructure.
Major British multinational retailer opened its flagship distribution centre in Leicestershire in 2013. With great demands on the site, which despatches next day home deliveries, the facility relies heavily on its highly sophisticated automated infrastructure.
The infrastructure covers 60 acres and 900,000sq ft. The fully automated distribution centre stores over 16 million products and process over one million products every day. Any system malfunctions can cost the business £thousands in lost revenue and downtime. It is, therefore, critical that the centre adopts a full belt and braces power protection strategy.
Following a series of site surveys, power monitoring audits and reviews, Power Control  identified a number of areas of weakness. As a result, Borri distributor recommended the installation of Uninterruptible Power Supply (UPS) systems to support key elements of the site's electrical infrastructure.
Borri and Power Control supplied, installed and commissioned 14 Borri Ingenio UPS ranging between 60 kW – 125 kW. Totalling 1.1 megawatt of power protection.
Individual Borri Ingenio transformer free UPS units are now supporting key parts of the electrical infrastructure that have been susceptible to mains power fluctuations. Deployed to work independently, each Borri Ingenio UPS system has been sized to cope with maximum inrush currents. Each unit also includes separate bypass switches.
Borri Ingenio Plus online double conversion UPS designed to highest manufacturing standards.
Chosen for their impressively small footprint, thanks to their internal battery capacity, the Borri Ingenio UPS systems are also a notably light solution. This meant that they could be positioned without the need to strengthen the flooring at the distribution centre.
Borri Ingenio Plus is a high performance and low TCO UPS solution. Borri Ingenio range not only delivers ultimate power protection but also maximum power density. Easy front access and advanced energy saving modes also means the Borri Ingenio systems have dramatically reduced maintenance and operating costs.
Discover more about Ingenio Plus:
https://www.borri.it/product/ingenio-plus/
For any further information about Borri 3-phase UPS official partner in the UK – Power Control Ltd please visit:
https://powercontrol.co.uk