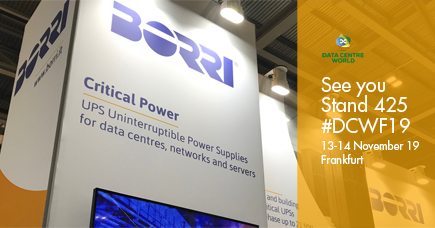 Discover Borri data centre solutions at DCWF 2019.
Meet us at Stand 425,
13-14 November 2019.
From edge to hyperscale data centres, the need for more efficient and cost-effective solutions is increasing. More and more companies are, in fact, adopting cloud solutions or modernizing their infrastructure.
At Data Centre World Frankfurt we'll show you our latest innovative modular, efficient and compact UPS systems to secure your data and maximize your investment. Come and discover our products and services.
What we offer for your data centre
UPSAVER 3VO.
Modular, high power UPS for data centres.
333 kW modules hot scalable up to 2.67 MW.
Parallel N+1 or N+N up to 21 MW.
Current Paralleling Technology.
>97% Ultra High Double Conversion Efficiency.
3-Level Green Conversion technology.
Li-ion battery option to adapt to all scenarios.
Click here to discover more about UPSaver 3vo.
Get your free ticket now, register here!