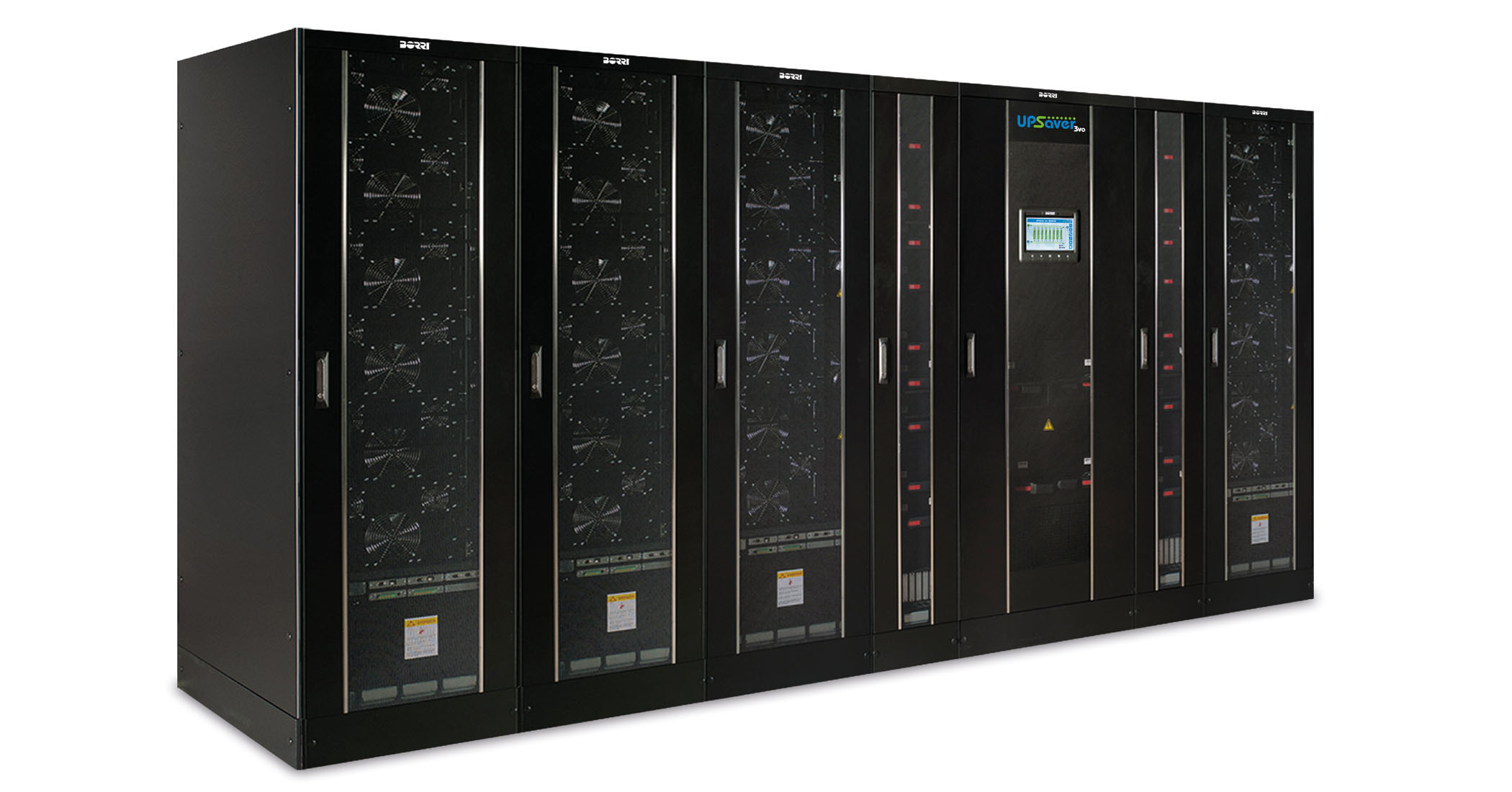 Hi-Power Modular UPS for data centres.
The new generation UPSaver 3vo is a Hi-Power Modular UPS for data centres providing the highest overall reliability and availability of any technology in the market. It is designed to adapt to the critical and changing data centre demands. With state-of-the-art components and design we have produced one of the most compact high efficiency 333kW module which can be scaled up to a 2.67 MW single UPS or paralleled up to 21 MW for higher power.
Modular. Efficient. Compact.
66% Higher Power Density
Reduces your UPS footprint by 40% leaving space for income generating infrastructure.

Higher Parallel System Power
Increases power of a UPS up to 2.67 MW with 333 kW Modules which can be power paralleled up to 21 MW.

Efficiency of up to 97% online VFI
Borri's patented Green Conversion & 3-Level inverter technology reduces the number of components while achieving highest VFI efficiency of 97%.

Adaptive Cooling
Intelligent Adaptive Cooling in the power pack takes the risks out of room temperature distribution problems.
Increased Anomalies Containment
Independent fuses and segregated steel chassis allow anomalies to be contained in a single sub-module, resulting in highly improved availability.
Peak Shaving
For cost effective energy management.
Large data centres and business critical applications.
Modular and adaptable high power UPS's for enterprise data centres and IT business critical applications, designed for the changing demands of your data centre with the Lowest Total Cost of Ownership (TCO).
Data centers
Networking services
Cloud
Telecommunication equipment
Critical Cooling
And because it's an UPSaver, it's still offering…
98.5% average efficiency with High efficiency modes as VI line interactive, ECO and UHE ultra high efficiency.
Intelligent Load-Based Shutdown to achieve 97% online VFI at almost any load.
Hot power scalability, online.
Hot maintainability, online.
MTTR <30 min with our replaceable power pack design inside the module.
System design flexibility with central or modular battery and/or bypass static switch.
Total installation flexibility with layout options to suit your space.
Discover more about Borri modular UPS for large data centres, UPSaver and UPSaver 3vo!