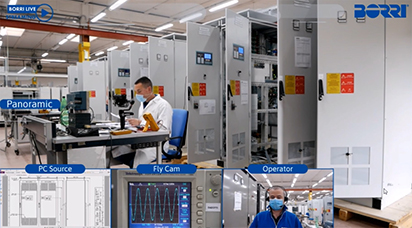 Ensure control and continuity to your projects.
Borri has developed a Factory Acceptance Testing (FAT) Live Streaming facility for customers to still be able to perform and witness FAT on their equipment, without travelling to the Borri factory.
Customers can control their project and meet their project contractual obligations, witnessing the FAT from almost anywhere in the world. This efficient and safe tool provides a solution to today's difficulties of safety and traveling, brings significant cost savings and improves delivery times, offering complete flexibility to our customers' agenda.
A simple, reliable and flexible way to perform FATs
Borri Live Streaming is our official online channel to perform live FATs with our customers using a free downloadable and secure Microsoft Teams Video Conferencing App.
With a suit of cameras set up in the Borri test field, you can check and test your systems in real time, share and fill in all the necessary documents, interact with the test field engineer and your Borri project manager.
Borri Live Streaming Tutorial
Want to know more about Borri Live Streaming? Watch this demo and instruction video to get some helpful tips and experience an online FAT. Contact us to get further information and remember: Borri Live streaming runs on Microsoft Teams.
One more innovative way Borri is adapting to the changing needs of the market.