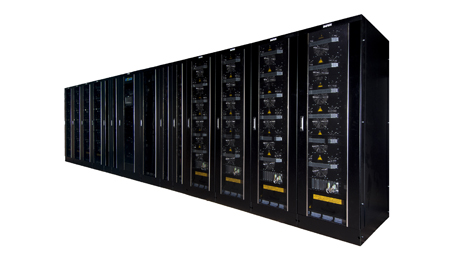 Legrand announced that it has signed a joint venture agreement to take a participation in the Borri Group.
Legrand, global specialist in electrical and digital building infrastructures (€5 billion sales, 36000 staff in 2016), started their entry into the UPS market in 2010, and have since made 8 acquisitions or joint ventures in UPS companies, as well as organic deployment in many countries.
Borri is a specialist in UPS for industrial applications and datacenters (around €60 million sales, 200 people).
Integrated solutions for Data Centers.
The main strategic rationale for Legrand's entry into UPS was to complement its major Data Center offer, whether for the technical room (Legrand distribution and protection panels, Zucchini MV transformers and bus-bars,…), or for the white room (Minkels containment solutions and server cabinets, Raritan intelligent PDU's, Legrand fiber optic patch panels, Cablofil cable management…).  Legrand has many Data Center references with well known international cloud and hosting companies.
Borri complements Legrand's offer with its high power scalable UPSaver system: redundant modules make up to 1,6 MW in a single UPS unit, then up to 8 of these in parallel can create a 12,8 MW system.  Late 2016, Borri won the Gemini Tier III Data Center project in Dublin, providing no less than 44 MW of UPSaver power back-up for the client, who is a well known world-class American IT company. Borri has also just won the first phase of a 10 MW Data Center project in Korea for a major international e-commerce company.  In both cases the projects were won thanks to the UPSaver's modular scalability, very high efficiency, high power availability and low TCO (total cost of ownership).
Borri: expert in large projects.
Borri will keep its independence and continue to sell its products through its existing channels using its 80 year Borri brand, but it now has the international reach of the Legrand Group to handle even larger projects.
One such project won by Borri in 2016 is the supply of 650 AC and DC UPS systems for the Doha Metro, one of the biggest ever projects in the Middle East for the supply of industrial UPS, managed by Mitsubishi Heavy Industries.  Borri's UPS will power the safety and emergency systems for the largest single metro project to date (240 km of line and 106 stations to be ready for the 2022 football world cup).

Complementary products and R&D for all projects.
In the future, wherever Borri's products secure critical loads in industrial, data center or commercial buildings, Legrand aims to also sell its complementary power distribution, digital interface and cable management solutions. As well as the above mentioned projects, Borri's references include supply of AC and DC UPS for the Shuqaiq desalination and power plant in Saudi Arabia, or other examples such as Petronas' floating LNG project in Malaysia and the Mirfa desalination and power plant in Abu Dhabi.
Perhaps the most remarkable of Borri's references was to provide 240 UPS units, totaling 30 MVA, for the Large Hadron Collider in the CERN, Geneva, backing up safety systems and cooling for the particle accelerator.

Finally, this association will permit Legrand and Borri to pool R&D investments in new power solution products.  We are already proud to announce Legrand's launch of the Keor HPE, premium three-phase UPS 60-200 kW, manufactured by Borri to Legrand's specifications, optimized for small and medium data center applications.
ALL RIGHTS RESERVED.