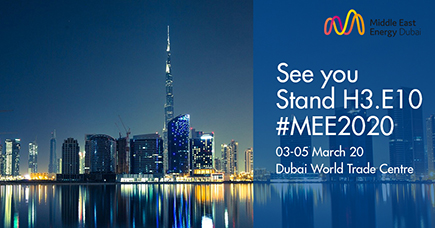 Discover Borri power protection solutions for industrial applications.
Meet us at Stand H3.E10,
03-05 March 2020.
Borri invite you to the next Middle East Energy  2020 Exhibition, from 03 to 05 March 2020 in Dubai, UAE.
The show, previously known as Middle East Electricity, brings together  both energy manufacturers and suppliers to showcase new technologies and innovative solutions. That is to say the best event to cover the complete energy chain in Middle East.
Borri Team can introduce you to our latest AC and DC power protection solutions and the New Industrial IGBT- Thyristor Battery Charger: products specifically designed and built to withstand harsh environment and operating conditions of industrial applications
New at Middle East Energy 2020
Industrial IGBT- Thyristor Battery Charger
Three-phase and three-level PWM rectifier combining a thyristor bridge with an IGBT converter.
Low input current distortion, THDi <5%
Input Power Factor (PF) up to 0.99
First component rugged thyristor for industrial applications
Markedly improved dynamic performance
Significantly reduced CAPEX – Upstream oversizing
Rugged design for harsh environment
East front access to all components