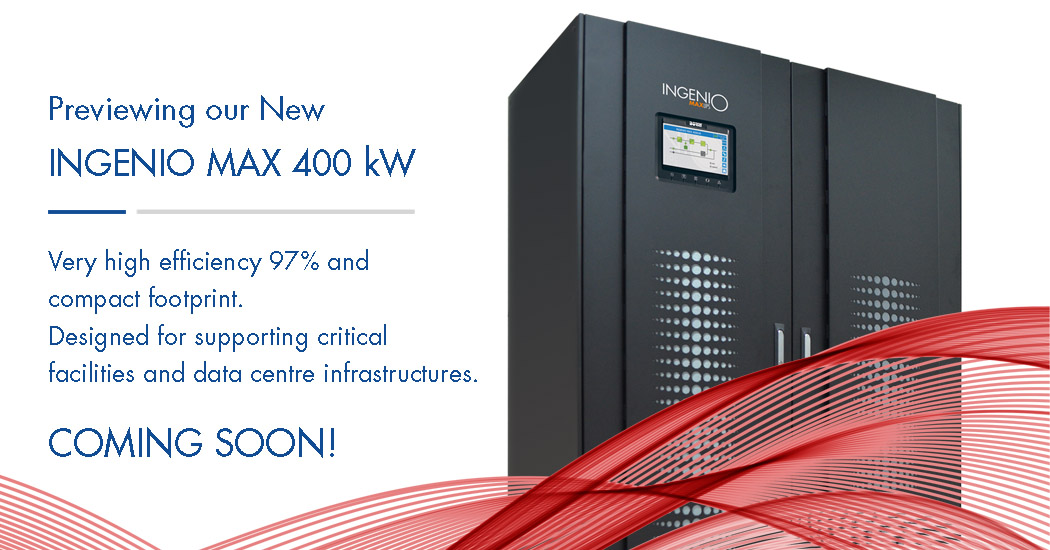 The new Ingenio MAX 400 kW unveiled at Data Centre World London 2018.
Maximum reliability and availability for your data centre infrastructures.
The data centre market has been under increasing pressure to achieve lower Total Cost of Ownership (TCO), where critical equipment such as UPS (Uninterruptible Power Supply) have come under the spotlight. As the leading European manufacturer of UPS systems, Borri has introduced Ingenio MAX, a large 3-level transformer free power protection solution with very high efficiency up to 97% and one of the smallest footprints in the market.
Unveiled at Data Centre World London 2018, the latest Ingenio MAX 400 kW unit will be available soon for delivery. The most recently released Ingenio MAX 200 kW, 250 kW and 300 kW units are already available and a great amount of orders already being installed and commissioned.
Manufactured using the same high quality components as other power protection equipment from Borri, the Ingenio MAX 400 kW is a testament to the company's commitment to the development of power protection technologies. Drawing on centuries of manufacturing excellence, Borri continues to invest over 4% of its annual turnover to R&D, enabling it to drive UPS innovation and carve the future for reliable, compact and cost efficient solutions.
Ideal for supporting critical facilities and data centre infrastructures, the Ingenio Max range is 2N and N+1 ready and can be paralleled up to 2.4 MVA. It comes with three level Green Conversion and Green Conversion Battery Care as standard, the Borri Ingenio Max series offers 97% efficiency, extended battery life and the lowest TCO on the market.
Commenting on the Ingenio Max 400 kW release, Borri Spa's product specialist Stefania Ceccarini said: "The rise of large data centres has brought a significant demand for lower TCO. Borri anticipated this shift and released its patented Green Conversion technology, which is now found within all our new UPS product releases. It has enabled us to offer reduced footprints and full front access reducing space and associated rental costs. Thanks to Borri Green Conversion technology our UPS systems achieve much greater efficiencies – reducing energy and cooling costs."
Stay tuned for more details about the upcoming Ingenio MAX 400 kW!