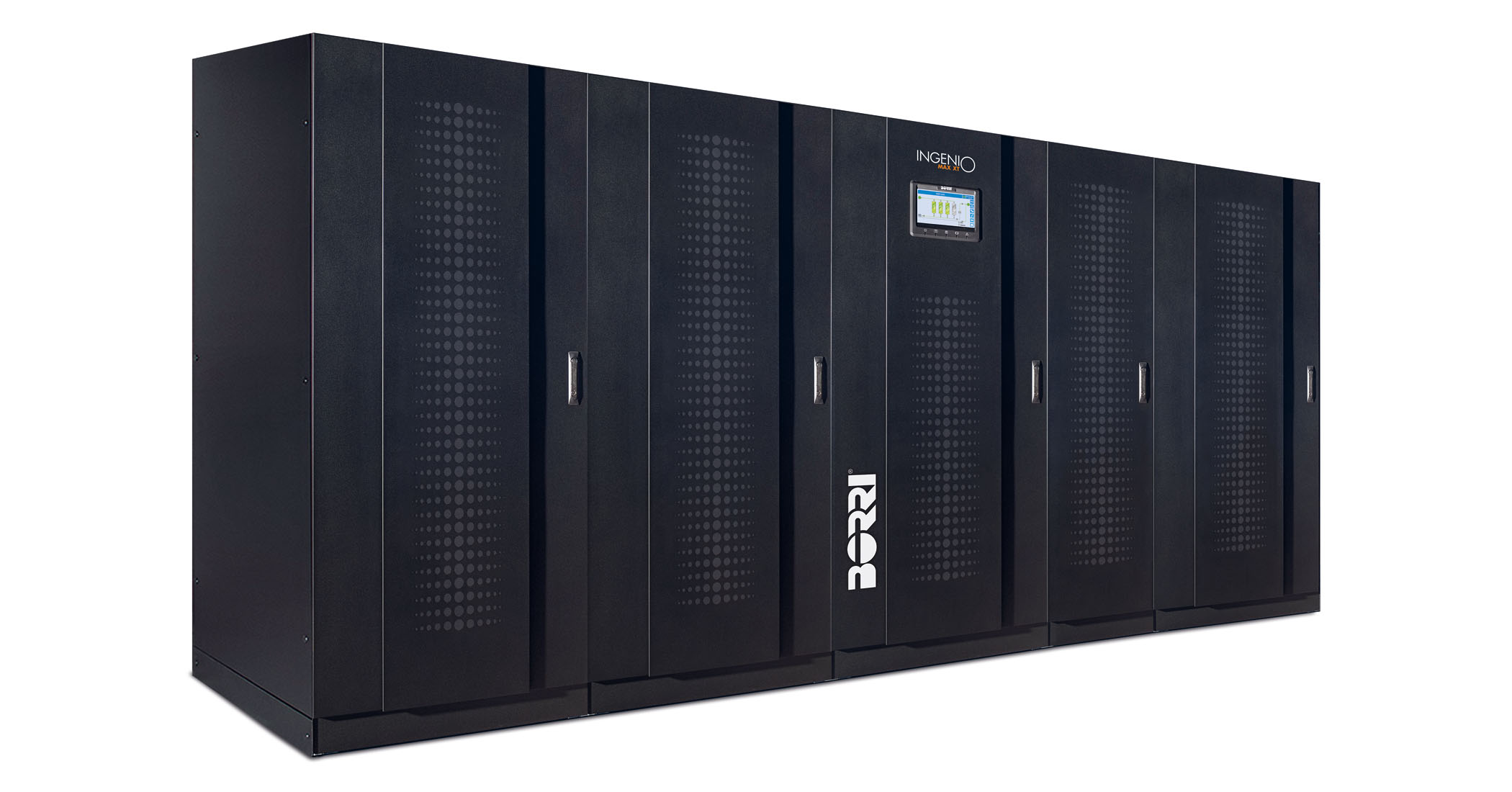 Scalable and Hi-power UPS up to 2.1 MW for data centres.
INGENIO MAX XT provides scalable uninterruptible power systems from 900 kW up to 2.1 MW designed to meet, above all, the demanding and changing needs of data centres. High efficiency and reliability combined with flexible configuration certainly make it the best solution to your data centre power protection.
Scalable. Flexible. Efficient.
Full scalable system
Scalable from 900 kW up to 2.1 MW UPS power, for N+1, N+N and A+B configurations, using 250 kW or 300 kW modules.
Hi-efficiency modes
Up to 97% online VFI efficiency even at low power with LBS. Even more efficiency, up to 99%, in ECO mode.

Hot maintainability
Hot maintainable modules (VFI) reduce mean time to repair and, therefore, ensure no system downtime.

Design flexibility
Central static bypass as standard while distributed bypass as option. Central or modular battery for adapting to all your design requirements.
Installation flexibility
Flexible layout options help achieve constraint-free positioning  packed, L-shape and also offset layouts.
Peak Shaving
For cost effective energy management.
Li-Io battery compatible
Your solution for both data centres and critical applications.
Borri INGENIO MAX XT is a scalable and also high efficient UPS system supplying reliable uninterrupted quality power to all critical applications. High efficiency operating modes and easy hot maintenance allow for both lowest Capex and Opex. Due to its flexible configuration and positioning, Ingenio MAX XT is totally adaptable to your facility and business.
Data Centres
Networking and telecommunication
Large facilities
Business Critical Applications
Continuous Cooling
Even more integration to your infrastructure.
Compact footprint.
Back-to-back or against-the-wall installation. As a result no rear clearance needed.
Operates at 40°C continuously, thus avoiding derating.
Low audible noise levels.
Replaceable dust filter for dusty environments.
Configurable I/O relays.
Both top and bottom cable entry.
External synchronization capability to support synchronized 2N configuration.
Built-in central static bypass for high selectivity performance.
Discover more about the new scalable Ingenio MAX XT, our new data centre solution!