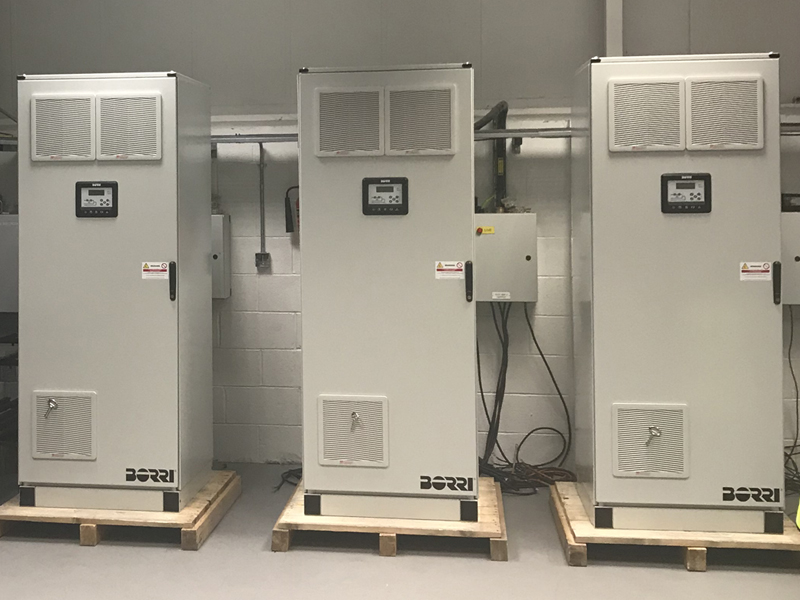 18 Borri custom-built 100 kW IP54 UPS units supplied, installed and commissioned.
Borri has recently worked with Power Control, Borri UK official partner for 3-phase UPSs, on a major project for one of the country's largest water treatment works.
Positioned as standalone units, the UPS systems are now providing essential emergency backup power across the entire water treatment site. One of the key prerequisites was for the solution to be IP54 rated (protected from water and dust particles), with a sizeably reduced footprint. Rather than issuing a standard IT grade UPS within an IP54-rated box, Borri was able to design and manufacture a far more compact IP54 UPS.
The modified units are now 800W x 800D x 2000H and are all front access for easy access and maintenance. The air inlet and outlet fans are also on the front meaning the UPS systems can be pushed right up against a wall, which also contributes to space saving. The battery boxes are also customised to provide IP54 with built in DC isolator and housed in a matching 800W x 800D x 2000H front access box. In addition the bypass switches have also been placed in IP54 enclosures.
Power Control's divisional sales director, Matt de Frece, commented on the project: "Having worked in partnership with Borri for almost a decade on developing bespoke power protection solutions, Power Control was confident that it would be able to provide a customised UPS systems that could be IP54 rated and significantly reduced in size."
"Borri has an impressive research and development team and we have worked in close collaboration with them on a number of high profile custom installs. Power Control has direct access to the factory and witness testing facility at Borri premises and can therefore easily deliver a service that is wholly indicative of Borri reliability. It is our close working relationship that enables us to provide our client with tailored solutions designed to meet their exacting requirements."
Borri's CTO Enrico Simoni concluded: "The tailor approach has always been a globally renowned Borri key differentiator. This project confirms Borri ability and expertise to meet custom demand for specialist industry sectors such as utilities, oil and gas and process automation."
"Borri invests over 5% of its turnover in research and development to continually provide the best power backup solutions. Borri today's offering can rely on more efficient, more resilient and more flexible technologies."
For any further information about Borri 3-phase UPS official partner in the UK – Power Control Ltd please visit:
https://powercontrol.co.uk